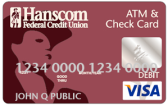 Why did the ATM user cross the road?
Answer: Because they didn't want to pay a surcharge!
And can you blame them? After all, last year Americans spent billions accessing their cash. But if you're smart about your ATM choices, you can avoid ever paying another ATM surcharge again. Here are five tips on how.
1. Understand the different types of ATM fees – there are two:
A. Surcharge Fee – These fees are charged by the ATM owner for the "convenience" of using their ATM. Before it is assessed, it appears on the ATM screen. If you select YES to agree to the fee, the amount is withdrawn from your account along with your cash. It is reflected on your ATM receipt.
B. Foreign Fee – These fees are charged by your financial institution when you use an ATM owned or operated by someone other than them. The fee is shown on your bank statement, separate from your ATM transaction. It does not appear on your ATM receipt.
2. Stay in network to avoid surcharges. There are large networks of ATMS who have agreed to waive their fees for participating credit unions and banks. Our network for instance contains over 100,000 surcharge free ATMs across the country – that's five times more than the largest bank. One of every four ATMs in the U.S. is free to Hanscom FCU members. Plus, we have surcharge free access in Mexico, Australia, the U.K. and Canada. Using the network means never paying a surcharge.
3. Plan. Don't wait until you're down to your last dollar to look for an ATM. Set a limit of the minimum cash you want to carry in your wallet at all times. As you approach that limit, start then to look for where to get more cash.
4. Go surcharge free – not surcharge reimbursement. Many banks and credit unions today offer to reimburse you for surcharges you receive at ATM machines out of network. These reimbursements are often tied to certain conditions like keeping a specific balance in your account or making a specific number of transactions during a month. But if anything prohibits you from meeting the conditions; you're out the money.
Also, surcharges are generally reimbursed at the end of the month. This means you're always out the money for a period of time. The beauty of surcharge free is that it's free right out of the box.
When you continue to use ATMs with surcharges, you're encouraging bad behavior all around. Encourage good behavior by rewarding ATM owners that provide surcharge free access. Why should you pay to access your money?
5. Look for ATMs in retail stores. Many retail stores support surcharge free ATMs hoping that you will linger and be a better customer. So it's a win – win for you and them.
With just a little planning, you can never pay a fee again to get your own money!