When Hanscom FCU Board Member Ray Phillips decided to run his first Boston Marathon in 2000, he had no plans to run another one. He also had not thought much about being partnered with a young patient from Boston Children's Hospital as part of the Credit Unions Kids at Heart Charity program.
Then he met Andy Martin, Jr., and his life changed.
"I remember the first time I met Andy," Ray said. "He had just turned four years old, and he had Spina Bifida. He was coloring, sitting on a table, and he looked up at me and said, 'Ray, are you running the Boston Marathon for me?' The way he said it, well, I just melted. I realized right then that this marathon wasn't just about me. It became something much bigger."
That first year, Ray met Andy near the Finish Line at the corner of Hereford Street and Boylston Street, and his father placed Andy on Ray's back in a backpack carrier so Ray could run with Andy across the Finish Line.
"Everybody was cheering, and I deluded myself into believing it was for me," Ray smiled. "But it was all for Andy."
As exciting as that run across the Finish Line was for Andy, the one thing he remembers most was seeing the wheelchair participants go by. When the race was over, he told Ray he wanted to participate in the Boston Marathon in his wheelchair the next year – at age five. When Ray explained that Andy would have to wait until he was 18 years old, Andy replied, "OK, that gives me a lot more time to train."
Ray vowed to Andy that he would be there for him every year, helping him achieve his goal of participating in the Boston Marathon in 2014, the year Andy turned 18. Every year for the next 14 years, Ray ran the Boston Marathon for CU Kids at Heart with Andy, the pair dubbed, "Team Andy." And every year, Andy would cross the Finish Line with Ray, carried on his back, and as he became older, pushed in his wheelchair.
Then 2014 came, and Andy realized his dream to compete in the Boston Marathon. He entered the wheelchair division as a charity runner for CU Kids at Heart and Children's Hospital. The Boston Athletic Association provided Andy with a trainer, Jason Fowler, a world-class wheelchair athlete who has completed 150 road races, 30 marathons, and 29 triathlons — all with the use of his arms.
"Jason really helped me prepare for Boston," said Andy. "He and Ray helped me achieve my lifelong goal."
Andy, who is from Goffstown, NH, is the only patient at Children's Hospital who has gone from being a Boston Marathon patient partner to a Boston Marathon participant. And it's all because of a dream that he believes Ray encouraged him to fulfill.
"Ray has always been the type of person who – if you have a goal – will find a way to help you solve it and make it happen," said Andy. "He's such an inspiration to me."
Ray responds that it is Andy who inspires him.
"I don't think I've ever met anyone who is as fiercely determined as Andy Martin," he said.
Keeping the Streak Alive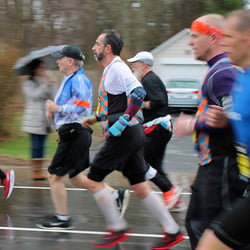 Ray made a sacred promise to Andy that they would cross the Finish Line at every Boston Marathon until Andy was old enough to compete himself. That promise was threatened in 2009, when Andy was hospitalized due to a kidney infection. It seemed there was no way he could be at his usual spot at the Fire Station to cross the Finish Line with Ray.
Andy was not going to be the one to stop the streak. Tears streaming down his cheeks, Andy begged the doctors to grant him a three-hour furlough, and then went to the meeting spot with an IV still in his arm. Ray almost ran by, not expecting to see Andy there. Then Andy spied him he shouted, "Hey partner, you're not crossing the Finish Line with me?" Ray couldn't believe his eyes. They crossed together.
The Boston Marathon bombing in 2013 posed another challenge to the duo – one that was unexpected and insurmountable. It did not deter Ray and Andy from keeping their vow to complete every marathon together.
"A few weeks after the bombing, after Boylston Street re-opened, we met at the top and crossed the Finish Line together," Ray recalled. "So we kept our streak alive."
Andy's Marathons
The year after the bombing, it was Andy's chance to realize his lifelong dream and compete in the Boston marathon as a wheelchair participant. At the Starting Line, Andy recalls being really nervous.
"I knew at this point there was no backing out," he said. "I was going to finish, so I just decided to go with the flow of things." He finished in a respectable 2 hours and 49 minutes.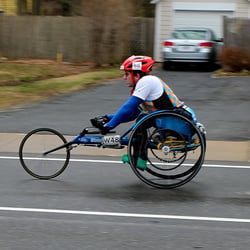 The next year was tougher on Andy, and he recalled that he could barely finish the race. "I almost quit two-tenths of a mile away, I had nothing left in me," he said. But he did cross the Finish Line, and plans to go back and compete again in 2017.
"Even if I qualify – and I hope I do someday – I will always run for Children's Hospital," said Andy. "Without Children's, I wouldn't have survived. They saved my life. Doing the marathon is my way of giving back to them."
Ray's 100th Marathon
Ray continues to go out and run Boston for Andy. But he does much more: In fact, this year's Boston marathon will mark Ray's 100th marathon since he ran his first at the age of 50.
"It's a lifetime achievement for me, so it is an opportunity to pause and reflect," the 68-year-old marathon veteran said. "I feel a sense of pride in what I consider a significant accomplishment." Ray credits Andy for his unwavering focus on achieving his goal, and has an additional goal to complete 25 Boston Marathons with Credit Unions Kids at Heart.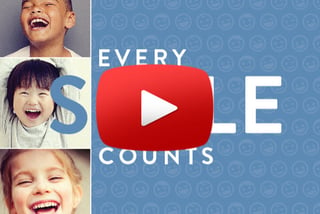 "From my first Boston Marathon in 2000 with Andy as my patient partner, he has been my inspirational force," he said. "Without the promises that Andy and I made to each other back in April 2000 and re-affirmed every year since, I expect that I would have stopped running marathons a long, long time ago."
And so the two inspire each other to reach their goals, bonded by a relationship that is as rare as it is special.
"Anything is Possible"
Ray wants to someday qualify for Boston. He's hoping to qualify at the Montreal Marathon in September 2016. It's an aggressive goal for Ray, and he admits his chances are slim. But then again, "Compare my chances with the monumental odds against achieving the goal set by four-year-old Andy Martin," he said. "My role model has clearly provided the road map to success: 'If one is focused and determined, anything is possible.'"
Andy agrees, and wants other kids with disabilities to know that they should go for their dreams. "For me, Boston was a pretty big goal, but I stuck with it," he said. "I would tell any kid: if you have a goal, go for it, no matter how small it might seem to someone else."
When Ray crosses the Finish Line in April, completing his 100th marathon, Andy will be there as his long-time patient partner and friend, cheering him on.
"I'm proud for him," he said. "Just emotionally, I can't believe he's done 99 marathons at this point. I think, 'Wow, my hat's off to you.' I don't think I'd reach that in my lifetime."
When it comes to Team Andy, as Ray says, anything is possible with focus and determination.