When Andy Martin, Jr. ran the Boston Marathon for Team Hanscom FCU in 2017, he ran it in honor of his grandfather, who had recently passed away and was one of Andy's biggest supporters.
Andy, who was born with spina bifada, was only 4 years old in 2000 when he became the Patient Partner of Ray Phillips, a Hanscom FCU board member and first-time marathoner. Fourteen years later, fueled by a goal he'd had since that first race, Andy completed the 2014 Boston Marathon as wheelchair entrant.
As he prepares for his fourth race as a wheelchair entrant in this year's marathon, what motivates him is thinking of the smiles on the faces of the Boston Children Hospital's Patient Partners who'll be cheering him on along the 26.2-mile route from Hopkinton to downtown Boston.
"Especially Matty when I see him this year," said Andy from his home in Goffstown, New Hampshire. "I know he's super excited I got paired with him."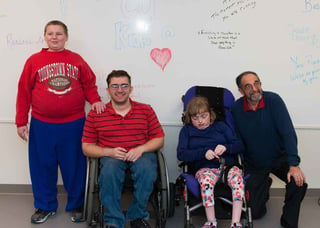 After 18 years of racing, Andy and Ray still consider themselves "Team Andy," but today they race together for the Patient Partner sister/brother team of Matty Bridges and his sister, Kayla Biagiotti ("Team Kayla and Matty"). Kayla was born with mitochondrial disease, a rare chronic genetic disorder that affects the production of cells. Her stepbrother Matty has autism spectrum disorder (ASD).
One hundred percent of the funds raised this year by teams running for Credit Union's Children at Heart, like Team Hanscom FCU, will be donated to several pediatric brain research projects at Boston Children's Hospital, including the search for treatments, therapies, and cures for Moyamoya Disease, Sturge-Weber Syndrome, Cerebral Palsy, and pediatric brain tumors.
Though his training got off to a late start and he's had only a couple days to get outside, thanks to late winter snowstorms, he has a superpower to draw upon: the will to succeed.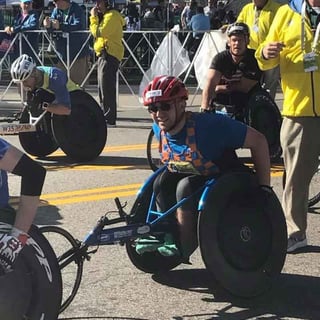 "I've never thought, 'I'm in a chair, I can't do this stuff,'" he said. "Because the way I live life is: If there's a will to do something, there's a way to do it."
As April 16 draws closer, Andy is focused not on the time he'll come in, but on finishing and seeing the smiles on his Patient Partners' faces as he crosses the finish line.
"I'm thinking of all the positive stuff that can happen," he said. "I know I've been training to the best of my ability so I'm feeling ready right now. But we will see what April brings around…everything's going to work out."
Over the years, Team Hanscom FCU has raised more than $500,000 for Boston Children's Hospital, primarily through donations from members like you. We invite you to participate this year, for the first or 19th time!
Others are reading: