Teenagers today: can they manage a household budget? Over 70 JROTC students from Lowell and Bedford high schools were put to the test this week, and the results were impressive.
"They each told me what they want to do for a career. I looked up realistic salaries and assigned each a monthly income based on the career," said Bill Burpeau, HFCU Multimedia Manager. "They then got a monthly budget sheet and it was empty. They had to do the basics like get a place to live, buy a car, pay utilities, and — of course — we want them to save. And they had to build a lifestyle to fit their budget."
The student challenge was presented as a fair called CU4Reality. It took place in a meeting room on Hanscom Air Force Base. This is the second year that HFCU presented the program.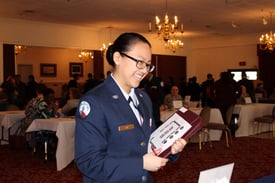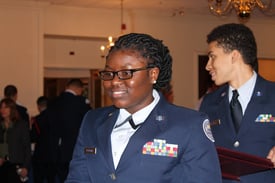 The room was lined with tables manned by volunteers who were "selling" goods and services to the students. The teens were required to stop at each table to choose things that fit within the parameters of their mock lives. These included housing options, cars, clothes, phone plans, continuing education, televisions, and more.
"When their budgets were complete, they went to the center of the room to meet with credit counselors. That's where they added up the numbers. If the budget is balanced, it's fine. If it's not, the students had to go back to the tables to make choices they could afford," Burpeau said.
The budget fair was the culmination of a six-week financial planning course taught in the high schools by "Mr. Bill" Burpeau.
"I didn't really know that much about making a budget. But when I came here to do this, I found out a lot of things that will help me be prepared," said Julia Ramos, a 19-year-old senior from Lowell High School. She built a budget using the income of an account claim checker. Her biggest surprise, she joked, was "I spend a lot of money."
For 18-year-old Lowell High School senior Fernando Estopa, budgeting came easy. The aspiring computer engineer fit continuing education into his plan and was able to include a comfortable savings. He said his biggest challenge was fending off a sales pitch to buy clothes. "I don't really care if I'm wearing expensive clothes or not, and they wanted me to wear expensive clothes."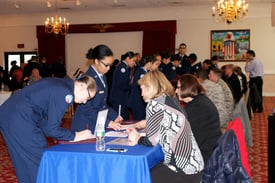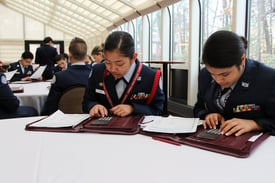 Volunteers added a bit of sales pressure to make the challenge interesting for the teens. Maria Porto, HFCU AVP of Partner Relations, said some students started out buying a Lexus at her "transportation" table. After trying to reconcile a monthly budget, a few came back to the table to trade in the Lexus for a Prius.
"The best response I get from students is when they tell me, 'I had no idea it was like this. I so appreciate what my parents do,'" Burpeau said. "It helps them to feel what it's like to live on a budget."
Chief Master Sergeant Chris Edris, JROTC instructor at Bedford High School, noted, "When they go out there next time — for real — they'll have some skill sets they learned here."