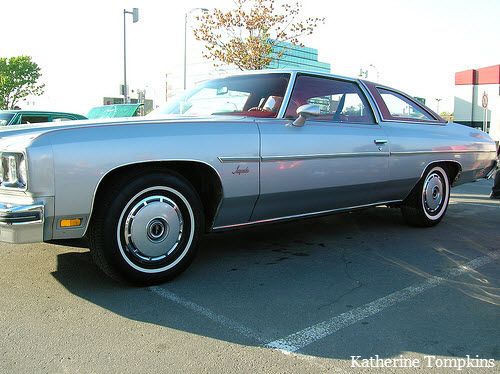 Car shopping the old way.
As a kid, I can remember jumping into my grandfather's blue 1976 Chevy Impala and heading out to car dealerships to find a new car for Grandma. Car shopping always started with him browsing through the newspaper advertisements to find the "best deal." Once he had seemingly found the dealership with this illusive best deal, the real fiasco began.
Even with a direct target in mind, we still went from dealer to dealer going through the same ordeal at each stop. I later learned this process was called "kicking tires." He'd negotiate the price, trade in and even financing with each dealer too. He'd fill out an application in the dealership and wait for the finance manager to come and discuss the details. This process could take many hours and often went back and forth. How he kept all the numbers straight, I'll never know. It was exhausting just to watch! By the end of the ordeal, I was bored and tired. But grandpa was happy with the deal he got and grandma was thrilled with her new 1991 Buick LeSabre.
Grandpa was from a different generation, was extremely tight with the dollar, and had the time to spend up to half a day at each car dealer in his quest for the perfect deal. Needless to say, Grandpa's way of buying a car is severely different from today's car buying process.

Car Shopping in the 21st Century.
Recently, I purchased a 2008 Honda Accord, and as my first vehicle purchase, I found that it was nothing like shopping with Grandpa. It all begins online today. I started with getting pre-approved for my car loan. Doing this online took only minutes. My credit union also helped me figure out what I could afford. If the dealer could offer me a better rate and term, fine. If not, it was one less thing I had to negotiate with them.
Next, I researched vehicles online. The online vehicle search allowed me to narrow down my selection by geographic region, vehicle type, color, engine, and a bunch of other options. However, my main concern was mileage, color, and leather seats. Once I found a few vehicles that matched my criteria through the online vehicle search, I was then ready to make a definitive selection.
I contacted different dealerships and discussed vehicles and prices with them. I decided that a maroon 2008 Honda Accord EX would be the best option. Up to this point, everything involved in my car deal I'd done right from home without spending a dime on gas. It also shaved off hours of waiting around car dealerships negotiating and waiting for answers. This process of car shopping allowed me to arrive at the dealership with just as much knowledge as the sales professionals. I felt like I was in the driver's seat of the transaction the whole way.
What's changed.
Times have changed drastically. In the not too distant past, we were required to rely on the dealership's salesmen to provide all of the knowledge about a vehicle. Now we can educate ourselves and show up at dealerships with a ton of information. Instead of kicking tires from dealership to dealership, I only visited one dealership to take a test drive, sign paperwork and pick up my car.
Consumer automotive websites such as NADA and CUDL offer a one stop shop for information about each manufacturer's automotive line. These websites provide several different means to conduct an online vehicle search with ample information about practically every vehicle in existence. This means we can find a fair value for any trade in we have as well.

Grandpa would have been simply shocked to see how much easier it is to buy a car today.
Learn more about how to be a smart car shopper today, by grabbing our Car Buying eBook.
Contributed by a guest blogger.