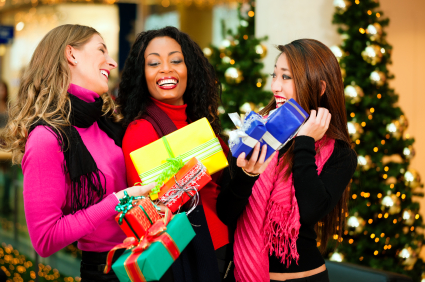 I know how stressful it can get during the holidays – I've been there! You have to juggle a huge number of tasks, including making sure that you buy gifts for everyone you know. This can get very stressful, especially as the holidays get closer. If you don't properly prepare for your holiday shopping, you'll end up forgetting to buy gifts, buying poorly chosen gifts, adding to the stress of your life and possibly going way over budget with your holiday spending. The following are a few tips that I use every year in order to make the holiday gift buying process as smooth as possible:
Begin early – The best way to reduce the stress of holiday spending is to get it over with early. Don't wait until the day before to get your shopping done. This will lead to you paying way too much money or coming away empty handed (or with a lesser gift). Begin your shopping ahead of time so that you get everything you need at a reasonable price.
Create a list – The very first thing you should do is sit down and think about all the people that you want to buy gifts for, from friends and family to possibly your mail man and more. Once you have a complete list, I would recommend that you begin deciding what type of gift to purchase for each person. Have backup items for each person in case you can't find what you wanted to get for them. If you can't figure out what type of gift to get someone, don't be afraid of purchasing the gift card. Many people think gift cards are lazy gifts – but I'm usually more than happy to receive them. It gives me a chance to go shopping for what I actually want!
Do research – Before you head out to the stores early in the morning on Black Friday, do a little research. Look up the brands for specific gifts you are looking to buy, especially if you plan on purchasing electronics. Do you really want to save five dollars on a product that is inferior? You should also be sure to compare prices online. Most stores will provide advertisements detailing their Black Friday deals ahead of time, making it easier for you to decide where you want to go.
Look at the return and exchange policies – Every retailer has a different set of return and exchange policies. Make sure you read up on them before you buy any of their products. After all, you may end up buying a gift that one of your friends or family members already owns or has no use for. I like to think that I research all my gifts thoroughly, but you never know. If you decide to forgo the brick and mortar stores to purchase something online, pay careful attention to whether or not you'll have to pay for shipping if you decide to return the item.
Keep track of you're spending – You should have a budget for your holiday spending, which means that you should keep track of all your receipts as you buy your gifts. Cross out the gifts on your list as you go, and jot down how much you are spending for every gift. Odds are you won't be buying everything on one day (at least, you shouldn't be!), so go back and look at what you've spent at the end of each day of shopping.
These are a few holiday shopping tips that I use every year to prepare myself for Black Friday. Download our Holiday Spending Guide to get tips and tools to make you a better holiday shopper this year!