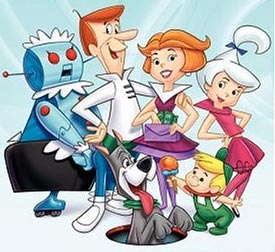 My favorite cartoon show when I was growing up was The Jetsons. In case you're not familiar, it was about a family living in the year 2062 with pneumatic people movers, robotic maids and a push-button meal maker. So many things were automated and it made their futuristic life look like so much fun.
Of course we're quite a ways from 2062, but we do have quite a lot of automation in our lives, especially when it comes to our finances.
No one really wants to think about their money every day. Whether you don't have enough, have too many bills, or know your retirement account just isn't as big as it should be, there's always something to worry about. Fortunately, with online/mobile access, easy deposit, and online bill pay, we have to devote less and less time to managing our finances. This is a wonderful thing.
Are you taking advantage of all this technology and automation to increase your savings?
Saving can be painful when you first start - you may notice a $50, $100 or larger deduction in what you can spend each month. But after you set it up, it will quickly become a habit and you won't miss the money as much.
Chances are, you've got direct deposit at work, but in addition to having your paycheck automatically deposited in your checking account, ask if you can have part of each paycheck deposited into a savings account as well. It's best if your savings account is harder to access and transfer money out. This can be accomplished with a CD or Money Market Account.
Another option is to set up automatic transfers so money is pulled from checking and put in savings. Our best advice is to put the money aside and never think about it. You don't want to mistakenly withdraw it if you feel the need to make a spur-of-the-moment purchase.
Even more rewarding? Set up a separate savings account for something exciting - a big ski trip, a relaxing beach vacation or a gigantic TV - and contribute to it faithfully each pay period via automatic transfer. Then when it's time to reap your reward, you can keep your credit card in your wallet and use cash to pay for your purchase.
Our CU Thrive account is a painless way to save that pays you an excellent rate. Once you set up the account, money is deposited automatically, up to $500/month, and held for one year. It's a great way to save for something special and all you have to do is sit back and watch it grow.
Follow these simple rules to maximize your savings:
Pay yourself first.
Set up an emergency fund account
Put something aside for your retirement
Make automatic transfers occur on the day after you get paid to ensure you'll have the necessary funds available
Show your financial smarts by automating your savings. But don't just set it and forget it! Be sure to review your automatic transfers once or twice each year to make sure that it continues to makes sense. Did you get a raise? Save a little more. Emergency house repair or medical bill? You may save a little less to pay off those expenses (or replenish your emergency fund). It's the best way to make sure your future will be Rosie!
Want to grab some cool tools to help you automate your savings? Download your Build-a-budget eBook today. This handy eBook is full of great information about finding "lost" money, making a savings plan, and putting that plan on autopilot!