Well, Team Hanscom has done it again. Our runners, Mike Rzeszutek and Ray Phillips, completed the Boston Marathon and so far, we have raised over $37,500 for Boston Children's Hospital.
Monday's spectacular weather brought thousands of spectators out to cheer on the runners. The warm temperatures took a toll on runners, though, especially Mike and Ray. They braved the midday heat, starting at 11:15 am in the last wave of runners.
Our runners pulled through. Mike finished in 4:38:17 and Ray finished in 5:50:39. They are both winners to me.
Celebrity Sightings, Festivities and Surprises
For runners, patient partners, and volunteers, the Marathon is really a whole weekend of events. On Friday night, CharityTeams.org throws a huge, celebrity-studded party for charities who train with them.
Mike filled in the details: "Our Credit Unions Kids at Heart team trains with other charity teams through CharityTeams.org. Among some of those teams are the charities of Bill Belichick Foundation, Gronk Nation, and the David Ortiz foundation, so of course my wife and I bought tickets to the party."
With true Boston flavor, guests included Mark Wahlberg, Joe Andruzzi, Mayor Marty Walsh, and the party-loving Rob Gronkowski.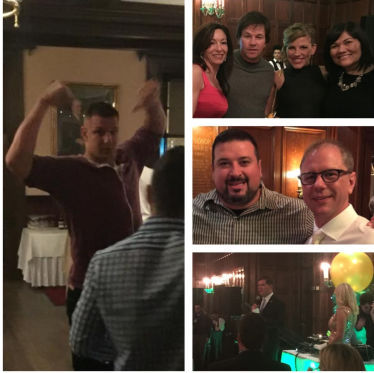 Clockwise from left: Rob Gronkowski, Mark Wahlberg with members of Credit Union Kids at Heart, Joe Andruzzi and Mike Rzeszutek, and Mayor Marty Walsh addressing the crowd.
On Saturday, Credit Unions Kids at Heart celebrated the 19 runners, patient partners and 54 credit unions that work together to raise funds for research. Dr. Edward Smith, Director of Pediatric Cerebrovascular Neurosurgery, reported on the pediatric brain research projects his lab has undertaken with support from the team.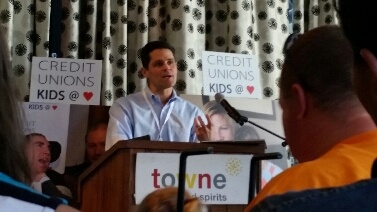 Dr. Smith addresses the Credit Unions Kids at Heart team.
Team leader Jane Melchionda reminded attendees that 100% of the funds go directly to research projects. This year, a portion of the $400,000 raised by the Credit Unions Kids at Heart team will go to study cerebral palsy, a condition several patient partners are treated for.
After a trip to the finish line for a photo op, the action moved to the Boston Children's Hospital party. With 200 runners, patient partners, and families, it was a bustling place.
Our own Ray Phillips was recognized with a lifetime achievement award. He has run each of the last 17 Boston Marathons for Children's Hospital. This was his 100th Marathon since starting at age 50.
Sunday was a day of rest and preparation. Maybe a light jog, a pasta dinner, and lots of water.
In the pre-dawn hours on Monday, the racers began their journey to Hopkinton. After an eventful weekend, the runners were ready for their big day.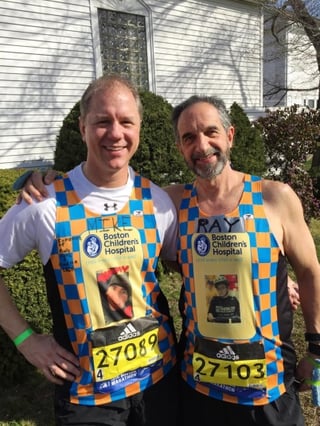 You know the rest of the story. Ray now has 100 Marathons behind him, Andy has another finisher's medal, and Mike is no longer a newbie Marathoner. Plus, we get to do it all again next year.
I can't wait. By the way, if you haven't donated yet, there's still time. Just click the button at the bottom of the page for details.
Mike and Ray hanging out before the race.