UPDATE: Thank you to everyone who joined us at the 2018 Relay for Life event at Burlington High School in Massachusetts. The weather was perfect and the energy was inspiring. For more information on how you can be involved in the Relay for Life efforts to benefit the American Cancer Society, click here.
Hanscom Federal Credit Union has been involved with the American Cancer Society's Relay for Life in a number of communities for almost 20 years, and we're continuing our involvement in 2018. On Saturday, June 9, our team will be participating in the Relay for Life event at Burlington High School — we'd love to have you join us!
What's Relay for Life? It's a fundraising event where members of a team take turns walking around a track or a designated path with the goal of raising money to help the ACS fight all types of cancer. The event can last anywhere from 6 hours to 24 hours — the Burlington event, which takes place on the high school track, lasts 12 hours — and every team is asked to have a member walking the track at all times because cancer never sleeps.
Each team sets up a themed campsite at the event and continues fundraising by collecting donations for food, goods, games, and activities. The funds they collect count toward their overall goal. Hanscom FCU's "4 A Cure Team" fundraising will be matched by the credit union, dollar for dollar. On top of this, Hanscom FCU is an event sponsor at the $1,000 level.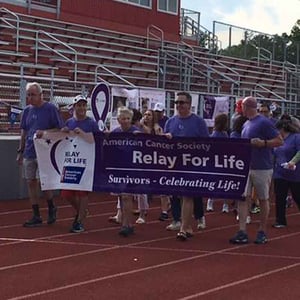 Team captain Sandy Imbrogna, training specialist at Hanscom FCU, has been part of Relay for Life's Event Leadership Team since 2009 and, like many of us, has a personal stake in finding the cure for cancer as it has affected her mother, several friends, and work colleagues.
"Relay for Life has given me a way to offer positive support to someone with cancer," she said. "It's a great thing to be involved in." In the run-up to the June event, Sandy has conducted fundraising for her team through a "knock-out cancer" event at Title Boxing in Burlington, a yard sale, and an employee raffle.
Your support would mean a lot to Sandy and her teammates, some of whom are fighting their own battles with the disease. The event kickoff starts at 5 p.m., with a Survivor Lap shortly thereafter. If you're a survivor or currently affected by cancer, you're invited to walk the track to be cheered and supported by everyone in attendance. Caregivers also take a lap and are recognized for their support of their loved ones during treatment. And lastly, luminarias will be lit at sunset to remember those who've been lost, to celebrate cancer survivors, and to show those affected by cancer they're not alone.
There will be local businesses, a DJ, food, and activities the whole family can enjoy on-site. (Please, no dogs. The event is taking place on a high school track.) Can't make it? You can donate to the team here.
We hope to see you on June 9. Please stop by our table and say hi!