golf tourney raises $50,000 for veterans health
David Sprague, Hanscom FCU President/CEO; Michael Allard, Home Base Program Chief Operating Officer; Brigadier General (ret.) Jack Hammond, Executive Director of the Home Base Program; and Paul Marotta, Hanscom FCU Chairman at the Red Tail Classic sponsored by the Hanscom FCU Charitable Foundation. The Foundation raised $50,000 for the Red Sox Foundation and Mass General Hospital Home Base Program. Home Base helps post-9/11 service members, veterans and their families heal from the invisible wounds of war: traumatic brain injury (TBI), post-traumatic stress (PTS) and related conditions.

$1,500 board memorial award presented to retiree group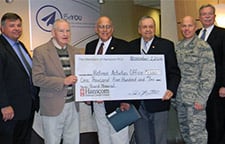 Hanscom FCU honored the Hanscom AFB Retiree Activities Office (RAO) with the 2016 Board Memorial Award. This $1,500 grant goes to a volunteer group serving Hanscom FCU's membership base. Staffed by volunteers, the RAO provides information and services to retirees from all ranks and services. The group represents retired members at the base and Air Force level, keeping them informed of Department of Defense actions that affect their lives.
non-scary halloween fun at trunk r treat event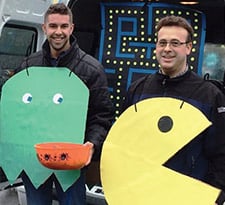 Shane Connell, project coordinator, and Bill Basler, Assistant Vice President and Bedford Branch Manager scored high with their Pac-Man themed display at the Goddard School Trunk r Treat event in Bedford, MA. The team handed out candy to hundreds of families attending the annual event.
cushman award goes to terri bellacini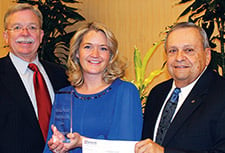 Terri Bellacini, executive administrative assistant, accepts the 2016 Cushman Award from Paul Marotta, Chairman of the Board (right). The Cushman Award goes to the staff member who best embodies the ideals of Hanscom Federal Credit Union. Ms. Bellacini was lauded for her excellence at providing grace, leadership, command of details and an uncanny ability to quickly devise an elegant solution to any problem as well as her member service skills and willingness to help others.
member appreciation day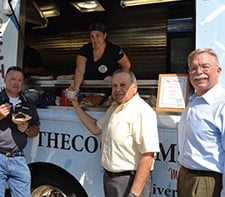 Phil Purcell, VP Commercial Lending; Paul Marotta, Chairman of the Board; and David Sprague, President/CEO, enjoy treats from Missy Gale, owner of the Cookie Monstah, during Hanscom FCU's annual Member Appreciation Day. Gale's company uses Hanscom FCU business services to finance the popular food trucks.