There's little doubt training to run your first Boston Marathon is one tough challenge. But Hanscom Federal Credit Union's Elizabeth Kistoglou has learned it begins with a single step.
"It starts off easy," said Elizabeth, who's Hanscom FCU's assistant branch manager in Billerica. "One mile here, one mile there, then I finished my first three miles in 20 degree weather. Next thing you know, I'm thinking, 'I only have to run 12 miles this weekend, thank goodness!' "
Elizabeth, a Hanscom FCU employee for 4 1/2 years, had been thinking about running a marathon for a long time, but admits she found it tough to commit to a training program.
What finally nudged her toward the start line in Hopkinton? Learning that charity runners for Team Hanscom FCU raise money that supports research at Boston Children's Hospital (BCH) for pediatric neurological diseases.
One of the specific conditions for which Team Hanscom FCU raises money happens to strike close to home for Elizabeth. Two of her cousins are affected by Moyamoya disease and were treated at BCH.
While one cousin fully recovered from complications from Moyamoya, the other was left with permanent brain damage.
Committing to Team Hanscom FCU for this year's run in the Boston Marathon has been a way for Elizabeth to support a cause that benefits sick children, as well as forge a deeper connection with her own family.
"To see what my aunt went through, I kind of wish I'd been more involved," she said. "The fact that we raise money specifically for one of the diseases that touches my family has been really encouraging through my training."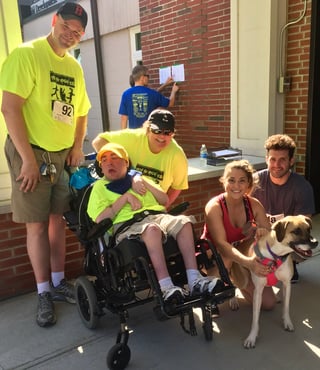 As Elizabeth logged miles this spring, she also made connections with the volunteers, families, and trainers affiliated with Credit Unions Kids at Heart, one of the largest credit union collaborative fundraising programs in the nation. Dozens of credit unions nationwide, like Hanscom FCU, join Credit Unions Kids at Heart's mission to help the children at Boston Children's Hospital by funding research for pediatric neurological diseases.
As part of its Boston Marathon fundraising initiative, the organizers at Credit Union Kids at Heart pair runners with patient partners from BCH.
Elizabeth is running for her Patient Partner Timmy, who has cerebral palsy. "Patient Partners are the happiest children I've ever met in my life," she said. "The people who have the most to be upset about are some of the happiest, most giving people I've ever met."
Elizabeth admits the thought of running 26.2 miles is daunting, even though she's been training since the first week of December 2017.
"I'm really nervous, actually," she said. "I'm nervous about the weather. I really hope it's a beautiful day. I'm nervous about the end, I'm nervous if I get tired, I'm nervous if I can't make it. I've expressed my concerns to other people on my team and they said don't even worry about it. Because when that day comes, you're going to have all these people around you doing the same thing and the crowd is the biggest motivator you'll ever have."
Elizabeth urges everyone to embrace physical challenges. "When you push your body beyond what you think you can do and then you get there…it's an amazing feeling. I'm looking forward to that feeling."
She added with a laugh, "And then never running another marathon again!"
Over the years, Team Hanscom FCU has raised more than $500,000 for Boston Children's Hospital, primarily through donations from members like you. We invite you to participate this year, for the first or 19th time!
You can donate at any Hanscom FCU branch, over the phone or securely online at www.hfcu.org/marathon. Your entire tax-deductible gift goes directly to Boston Children's Hospital, with nothing taken for administration.
Others are reading:
CU Service Centers: It's like having 5,000 Hanscom FCU Branches