Celebrating our 61st annual meeting. The 61st Annual Meeting took place May 2, 2015, at Moseley's on the Charles. Highlights included the presentation of a $45,000 donation to Children's Hospital Boston, the total amount raised from the 2015 Boston Marathon campaign. Jane Melchionda, founder of the CU Kids at Heart program and President/CEO of EasCorp, left, accepted the check from Marathon participants Andy Martin, Jr. (holding check), Mike Rzeszutek and Ray Phillips and Hanscom FCU President/CEO David Sprague.
Seven college-bound seniors receive scholarships.

Condon Scholarship Committee Chairman Hugh McNeil (left) and Chairman of the Board Paul Marotta (right) congratulate Hanscom FCU's 2015 scholarship recipients. Standing left to right are Theresa Chen, Gina D'Addario, Caroline Johnston, Jeremiah Menyongai and Emma Valentine. Two additional students, Brianna Kitts and Joseph Romano, were unable to accept their scholarships in person.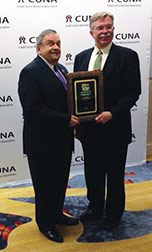 Hanscom FCU recognized with national member service award. Hanscom FCU received the Louise Herring Philosophy-in-Action Member Service Award from the Credit Union National Association. The program honors credit unions for practical applications of the credit union philosophy that benefit members. Hanscom FCU earned first place among all credit unions with $1 billion or more in assets for its efforts to support members during the federal government shutdown that affected many of the credit union's members.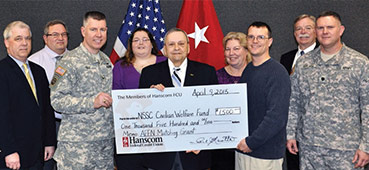 Natick employee group receives $1,500 matching grant. Hanscom FCU Chairman of the Board Paul Marotta, center, presents a $1,500 matching grant from the Armed Forces Financial Network to Natick Soldiers Systems Center Civilian Welfare Fund (CWF) volunteers. The grant matches funds presented by the Hanscom FCU directors in 2014. Left to right are Jim Potter, Hanscom FCU SVP Operations; CWF volunteers Lavern Olmstead, BG William Cole, Theresa Sourbutts, Kathy Ferent and Duane Young; Hanscom FCU President/CEO David Sprague; and LTC Brian Greata. Photo Courtesy of USAG-Natick and Natick Soldier Systems Center.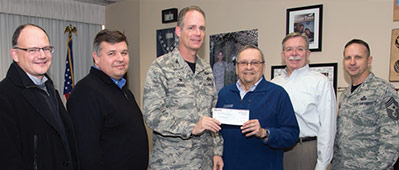 Hanscom FCU helps 66th ABG recognize best of the best. Hanscom FCU Chairman of the Board Paul Marotta presented a $2,500 check to Col. Michael A. Vogel, 66th Air Base Group Commander, to support the 66th ABG's annual awards banquet. Left to right are Chuck Paone, Hanscom Air Force Base Public Affairs Officer; Tom Fredericks, 66th Air Base Group Deputy Director; Col. Vogel; Mr. Marotta; Hanscom FCU President/CEO David Sprague; and CM Sgt. Craig A. Poling, Hanscom AFB Command Chief Master Sgt. Photo Courtesy of US Air Force.