It sounds like a bribe, doesn't it. But a new survey suggests it might work. The study, released by online grocer Peapod confirms what I've always suspected: employees like free food, especially millennials. The 18- to 34-year-old group was nearly three times as likely to value snacks in the workplace over those 45 and older.
The survey, released in August, included feedback from more than 1,000 full-time employees. It finds that happiness levels among workers who receive free food in the workplace are higher than their (probably hungry) counterparts. While 56% of full-time employees report being "extremely" or "very" happy with their current job, that number jumps to 67% among those who have access to free food.
Companies, however, are not feeding into this idea — yet. Only 16 percent of those surveyed said they had access to free snacks at work. The majority (55%) said they had access to free beverages such as coffee and tea.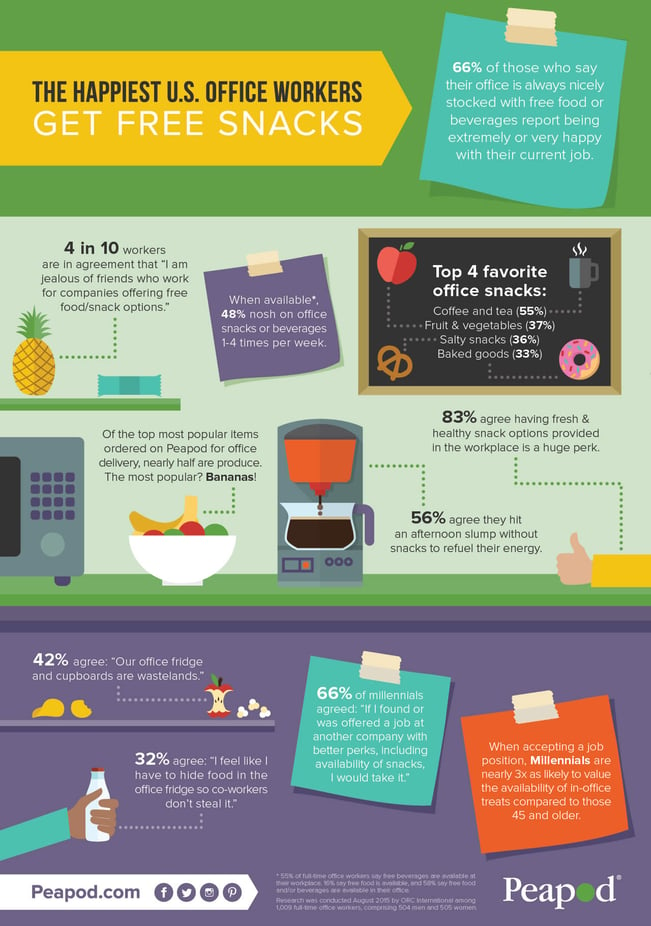 Used with permission from Peapod.com.
To take advantage of this information, the survey suggests employers serve up healthy snacks like fruits and nuts. A resounding 83% of employees reported that having healthy and fresh snack options were a huge perk.
What caught my attention, though, was the emphasis on healthy snacks. The report noted that fresh produce takes the top spot among its office deliveries — with bananas coming in as, well, the top banana.
I'm curious to know about your company. What kind of free food options do you offer in the workplace? What pros and cons have you found to offering food in the office? I encourage you to share your experience in the comments below so that we can all learn from each other about encouraging a happy workplace.
Speaking of free food, the Partner Relations team at Hanscom FCU offers free lunch at each of our money management employee seminars. A team of financial experts is available to come to your office and lead a discussion on topics such as estate planning, credit scores, retirement investing, identity theft, and more. As a nonprofit organization, we pride ourselves in making people — not profit — the center of our conversations. Find out why our Lunch and Learn seminars are growing in popularity.