Ray Phillips thought running the Boston Marathon in 2000 would be a one-time thing. He was over 50 and thrilled to get a coveted bib number as a charity runner for Team Hanscom FCU, which supports Credit Unions Kids at Heart. Yet while he looked forward to the challenge, he didn't have a compelling reason to put himself through more training seasons and possible injury in the future.
What kept Ray running over the following 18 races started with a little boy named Andy Martin, Jr., his four-year-old Patient Partner from Boston Children's Hospital, who shyly asked him during a race kickoff event , "Ray, are you running the Boston Marathon for me?"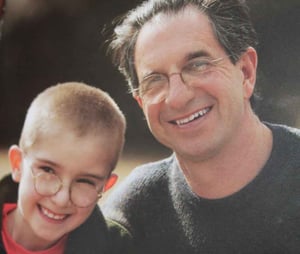 "I realized it wasn't all about me anymore," Ray recounted during a recent interview. "It was about Andy and the folks at [Hanscom FCU] — the staff and members who were donating — and my teammates I'd be running with on Saturday mornings, the Credit Union Kids at Heart teams, all the Patient Partners and their families, and, of course, to raise money for Boston Children's Hospital."
Flash forward to today. Ray, a Hanscom FCU board member, will be competing in his 19th Boston Marathon on April 16. To top it off, he'll be running his first marathon as a 70-year-old.
To date, Ray has run 107 marathons. "I never expected to get to 100," he said. Around his 85th race, he started planning his race schedule so that his 100th race would be the Boston Marathon in 2016.
Running 26.2 miles is a challenge for anyone, but for a guy in his 70s, training for a race like this brings additional challenges.
"The more I train," he said, "the more I break down. There's a balance between training and hurting myself at this age."
What has helped him on race days is focusing on the crowds instead of his aching body. "It's mental," he said, "You've got to think about other things rather than your legs."
Ray also tries to keep race day fun.
For one race, he dressed up as Elvis, which got him a lot of crowd support. But when the Boston Athletic Association tightened security after the 2013 marathon bombing, capes were not allowed on the course, so Ray put his own name on his shirt.
He said, "Now I get people yelling out 'Ray!' instead of 'Elvis the King!' I guess I don't need that guy anymore; I can just be me."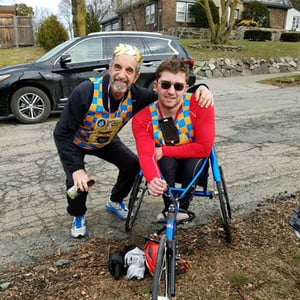 Ray, along with Andy, who now races in the wheelchair division, still consider themselves "Andy's Team." Since 2000, they have helped Team Hanscom FCU raise over $500,000 for Boston Children's Hospital. One hundred percent of the funds raised this year by Ray, Andy, and all the teams running for Credit Unions Kids at Heart will be donated to several pediatric brain research projects at Boston Children's Hospital, including the search for treatments, therapies, and cures for Moyamoya Disease, Sturge-Weber Syndrome, Cerebral Palsy, and pediatric brain tumors. Nothing is deducted for administrative expenses.
Ray's excited about running his first marathon as a 70-year-old. "I'm moving up a division," he said, noting that he's now competing in a field with fewer competitors. His goal now is to run 25 Boston Marathons in a row, which he should achieve in 2024 when he's 76. The reward? He'll be published in the official Boston Marathon program as a 25-race veteran.
"I'm hoping to get that far," he said. "And if I get that far, I guess we'll shoot for 80. I just hope 20 years from now when the competition has dwindled down to me or another guy, I'll win for my division."
You can donate at any Hanscom FCU branch, over the phone or securely online at www.hfcu.org/marathon. Your entire tax-deductible gift goes directly to Boston Children's Hospital, with nothing taken for administration.
Others are reading: