Sandy Imbrogna, Hanscom FCU training specialist and Katy Nowoswiat, program manager with the American Cancer Society.
Sandy Imbrogna, training specialist at Hanscom FCU, was honored with the Sandra C. Labaree Volunteer Values Award from the New England Division of the American Cancer Society (ACS).
The Labaree Volunteer Values Award recognizes and honors those whose service in the fight against cancer most exemplifies the organization's values: Mission, Diversity, Stewardship, and Respect. The award is named for a volunteer from Maine who dedicated 25 years to the New England ACS and was established in 2000.
Sandy was selected for this honor from over 103 nominations throughout New England. She received this recognition at the 2017 Burlington, Massachusetts Relay for Life event.
Cheryl Shafman, co-chairman of the event, described Sandy as altruistic, persuasive, and creative. "In the words of her nominator," Shafman said, "I've never met someone who is as giving of her time and energy to help others. That's very rare in today's world to find someone who quite clearly cares more about others than she does herself."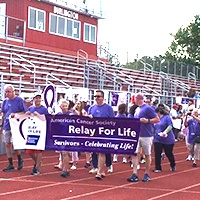 As a member of the Relay for Life planning committee since 2009, and captain of Hanscom FCU's team, Sandy has devoted many hours to planning events, soliciting items for the popular raffle table, and cheering on hundreds of participants. Under her leadership, the Hanscom FCU for a Cure team has raised tens of thousands of dollars to fight cancer and educate the public about prevention.
Sandy earned special recognition as one of the top 10 individual fundraisers in 2014. In 2016, she reached the Platinum Level in the Relay fundraising club, with more than $750 in donations.
"Her selflessness has continually inspired me to ask myself what else I can do to help others," the nominator explained. "Not only through my work with the American Cancer Society, but also in life."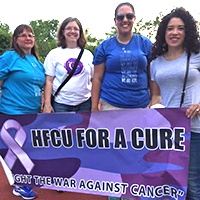 Hanscom FCU has been involved with Relay for Life in various communities for over 18 years. We participate to remember several coworkers who passed away from this terrible disease. Sandy, through her dedication and enthusiasm, keeps our team motivated towards the goal of fighting back against cancer.
Become part of an organization committed to the credit union motto of "people helping people." We're hiring. Learn more at www.hfcu.org/careers.