The Boston Marathon, in its 122-year history, has never been cancelled because of weather. Nothing has stopped its runners: snow, sleet, heat, humidity…the race always goes on.
And 2018 was no different with its driving rain, gusty winds, and lower-than-normal April temperatures.
At first the rain wasn't that bad from my vantage point (shortly after the halfway mark in Wellesley) — it was almost misty, and I rationalized that the fine mist might be enjoyable for runners. But as the morning progressed and the starting time of the race got closer, it went from a gentle mist to drizzle to downpours. At least there wasn't heat, which most runners can't abide. However I suspected the torrential rain on Marathon Monday would test any marathoner, elite or first-timer.
Still, volunteers and Patient Partners from Boston Children's Hospital braved the weather and showed up to cheer the runners. One Patient Partner, Ian, couldn't be budged from his vantage point on Washington Street. From the moment the first wheelchair competitors whizzed by us to when his parents told him it was time to go, he was out there, cheering loudly and often, despite the rain and cold.
I was in Wellesley to watch for Team Hanscom runners—Andy Martin, Jr. in the wheelchair division, and Ray Phillips and Elizabeth Kistoglou, our charity runners. Andy was the first to make it past the halfway point. When I saw him, the weather looked to be getting the best of him, but give up? Nope. "I've got to get to the finish line," he said. "Ray will be there, and my Patient Partners [Team Kayla and Matty] are counting on me."
I shouldn't have doubted him. Andy made it to the finish line, despite the daunting weather conditions, with a time of 6:09:20.
By the time Ray and Elizabeth had reached the halfway point in Wellesley, my camera had given up the ghost and locked me out. Luckily, we had a Hanscom volunteer at the finish line in Boston to capture our intrepid runners. Ray, who was running his first Boston Marathon in the 70+ age division, finished the race in 5:37:50. And Elizabeth, who was running her first marathon, finished with a time of 6:45:30, with Hanscom FCU employee Lori Skelton at her side. All of us at Hanscom are so proud of Andy, Ray, Elizabeth, and Lori for their commitment to the sport and volunteerism!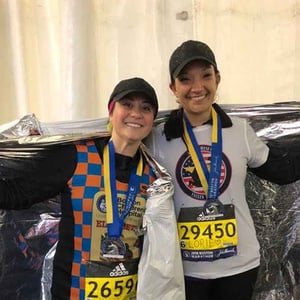 One could say that this year's Marathon was a washout, except for the fact that due to the generosity of our volunteers, members, and vendors, we raised $39,199.79 to donate to Credit Union Kids at Heart's efforts to support Boston Children's Hospital. Wow!
One hundred percent of the money raised by Hanscom FCU will be used to fund several pediatric brain research projects at Boston Children's Hospital, including the search for treatments, therapies, and cures for Moyamoya Disease, Sturge-Weber Syndrome, Cerebral Palsy, and pediatric brain tumors. Although this race is over, the search for cures is still on—the children and families impacted by these diseases and conditions would welcome your support. Visit www.hfcu.org/marathon to donate today.