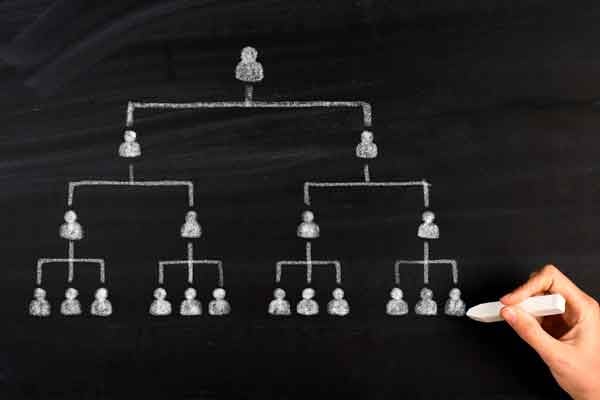 Looking for that golden ticket to financial freedom? Multi-level marketing (MLM) companies want you to believe that a) there is such a thing and b) they are it.
Their pitches can range from "Achieve financial freedom working just a few hours a week" to "The perfect job for the stay-at-home mom." And no matter what your interests are, you're likely to find an MLM that complements them. You've got the classics like Amway, Mary Kay, Avon, and Pampered Chef. And then there are the new MLMs that target millennials: LuLaRoe, Beachbody, Usborne Books, and doTerra, to name a few. In the MLM world, everything from vacation club memberships to jewelry to kitschy stickers for your fingernails can be sold through its network marketing model.
Reality check: While some MLMs are legitimate businesses where, if you work hard, you can make money, there are many other MLMs that are nothing more than schemes designed to take your money. Without doing your homework, you may end up losing money. At best, you'll earn $0 and own a cupboard full of products you'll never use. In fact, you might lose your money, which according to a recent survey conducted by the AARP Foundation is the case for 47 percent of people who sign on with an MLM. You're also likely to lose friends and/or annoy people with the aggressive sales tactics that some MLMs encourage.
Just ask Kelly*, who had been a fitness trainer prior to accepting a position at Hanscom FCU. Kelly was well versed in MLM claims because of her prior experience with supplements and weight-loss products. When an old friend suddenly reappeared on the scene offering to help her achieve her financial goals and dreams by selling vacation club memberships, Kelly thought she was prepared for the sales pitch. The friend's pressure to join up, however, was unrelenting.
"I asked her to show me how much she was making with them," Kelly said. "She finally admitted she hadn't made any money, but she kept pressuring me to join up with her so I could 'change my life for the better and travel the world.'"
Kelly's friend continued to text and call Kelly, urging her not to miss out on such a great opportunity and telling her that she needed to "invest in the future." When Kelly brought up negative news stories and publicity that she'd found by doing some research about the so-called opportunity, her friend lashed out.
"She called me a 'hater' and said I was jealous of successful people," Kelly said with a laugh. "I guess I am a 'hater' because I hate losing my money."
Needless to say, Kelly did not sign on to sell vacation club memberships. But many others get roped into "opportunities" like this, only to regret it later. Sixty-five percent of former MLMers say they would not join the same company again, the AARP survey found, and more than half felt misled by MLM claims.
Still, around 20 million Americans have been involved with an MLM at some point. Before you become one of them, here are five things to consider first:
Expect an upfront investment. You may have wanted just one or two items from an MLM's catalog; next thing you know you've forked over a week's worth of grocery money to purchase a "starter kit" of popular product offerings. Want to skip the sign-up and just buy the products outright? Some companies may make it nearly impossible to purchase without signing up — and if they do allow it, it could be at an inflated retail price. You may have to sign up and make an upfront minimum purchase in order to become eligible for member discounts, or when you do sign up, the idea of "business building" is likely to be shoved down your throat by an enthusiastic upline (MLM-speak for someone above you in the organization).
Member perks could require a minimum purchase. A few years ago, I signed on with an MLM because I loved the products and wanted to purchase them at a discount. I didn't really intend to sell, but I wound up recruiting a downline (like an upline, only beneath you in the organization rather than above) who loved selling and was really good at it. Thanks to her efforts, I was earning commissions — supposedly. But when my checks didn't arrive, my upline explained that it was because I wasn't buying enough stuff. The company required me to spend $100 in order to earn my $20 commission. Say what? As much as I enjoyed the products, I didn't need $100-worth each month. I immediately cancelled my membership. Other MLMs have similar structures, which are often disguised so people don't realize how the system works until it is too late.
Friends, family, and acquaintances may get annoyed. It is easy enough to ignore or hide a Facebook friend who constantly peddles MLM swag through posts, videos, and party invites. But if you are the one doing the peddling, you might annoy — if not completely alienate — a few people in your life. According to the AARP Foundation, this is a deal breaker for a lot of MLMers. Thirty-nine percent drop the gig altogether because they feel awkward pushing products to friends and family. But for those who press on, relationships often suffer. Kelly's story is a great example, and a recent story in The Washington Post called How MLMs Are Hurting Female Friendships describes other friendships-gone-awry in the wake of MLMs.
The income potential they claim may not come to fruition. The AARP Foundation stats spell it out very clearly. Nearly three-quarters of MLM participants either lost money or made none at all in their respective programs. Of the remaining quarter, most made less than $5K. A mere three percent earned between $10K and $24.9K. Just one percent reported income of $100K and above.
The promises and claims made about the superiority of their products may be suspect. Admittedly, some MLM products are great! There are cleaning products that get rid of grime without the use of chemicals, a facial moisturizer that really does reduce the appearance of fine lines, and leggings that are so soft and cozy you never want to take them off. But that doesn't mean all the claims a company makes are accurate. Case in point: one popular MLM claims that their essential oils are the only essential oils on the market to have earned a certain quality certification. Sounds impressive, until you find out that the certification doesn't even exist outside of the company. Only their oils earn the certification because only their oils are eligible to earn the certification.
A good reminder to do your own research and decide for yourself whether the products are truly worth the investment … and the risk.
* Name changed
Dawn Weinberger is a freelance writer in Portland, OR.