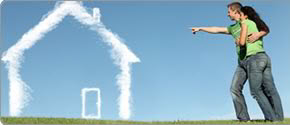 Looking at houses before you get pre-qualified for a mortgage is like picking out your first car before you get your drivers license. It just doesn't make much sense.
Getting pre-qualified for a mortgage offers several advantages. It shows sellers that you're a serious buyer (and that the deal won't fall through because you couldn't get financing), helps narrow your search to houses you can comfortably afford, and alleviates the stress of wondering whether or not you can afford the house you've fallen in love with.
Just follow these five steps to ensure the home-buying process goes smoothly. Then you can relax and enjoy your house-hunting experience.
Of course, now you know that your first stop should be with a mortgage lender to get pre-qualified for a mortgage. They'll ask for proof of employment, your credit history and other financial information, and provide you with a document that shows how much they're willing to lend you. Talk to several lenders (start with your credit union!) so you can compare rates and terms. Don't get pre-qualified too far in advance - many expire after 90 days, so be sure to ask your lender how long the offer is good for.
Next, find a trustworthy and knowledgeable Realtor who's familiar with the area you're looking in. Home Advantage, a CU Realty service and Hanscom FCU partner, is a free service that has a list of approved agents you can choose from. If you work with a HomeAdvantage Agent, you'll get a 20% discount (on average, about $1,450) on your agent's commission as a credit at closing. Plus, you'll get unlimited access to MLS listings so you can do as much home research on your own as you like.
Third, begin your house hunt. Open houses, online listings, tips from friends and, of course, your agent can all help narrow your search till you find the perfect home. And you can relax because once your offer is accepted, you won't have to worry about running around trying to qualify for a mortgage. Your work is already done!
Fourth, purchase your mortgage once you have a property in mind. You'll work with your lender on all the specifics of your mortgage including the amount of your down payment, closing costs, and any fees associated with your mortgage. You should have everything in place in time for your….
Closing day! To be safe, plan on 2-3 hours to complete all the paperwork at your closing. Once all the documents are signed - your Mortgage Note, Deed of Trust and HUD-1 Settlement and Truth in Lending Statement - and you've paid all your closing costs and fees, you'll get the keys to your new home.
Congratulations on being a homeowner!