With September coming up quickly, many big banks are offering flashy benefits for new college students. Banks create special offers, such as waiving monthly fees for a number of years or offering credit cards with cash back on certain purchases, to attract these new account holders.
But it's important to realize that the fees don't go away forever, many accounts have minimum balance requirements, and credit cards can come with exorbitant interest rates.
There's a solution, however. Just bring your credit union to college with you this fall!
It can be tempting to get an account with a big bank when you consider that some of them have branches seemingly on every street corner, while your credit union may have all its branches within a 50-mile radius of your childhood home!
But here's the rub: many credit unions are members of CO-OP Shared Branching, which means you can make deposits, withdrawals, or conduct any other teller transaction at one of 5,000 member branches across all 50 states. This means wherever you go to school, there's probably a shared branch nearby where you can do just about anything with the credit union account you already have.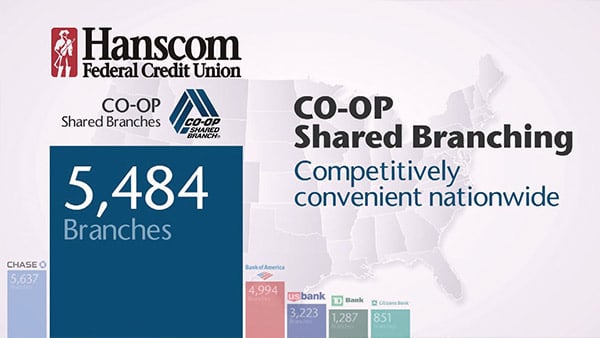 One thing you'll learn in college is that banks and ATM machines can impose some nasty fees. When you're a college student, every dollar counts. It's a big reason why you need to bring your credit union account with you wherever you go: Chances are excellent that your home credit union will let you use your existing ATM and check card at over 100,000 surcharge-free ATM machines across the country.
Before you head off to campus, check with your credit union and ask if they're CO-OP Shared Branch members and/or offer access to surcharge-free ATM machines across the country. If so, here's a link where you can find out what's local to your school.
While at one time it was important to have an account with a bank or credit union with a physical branch, it's not totally necessary now. If you have a smartphone and a 4G bar, you can pretty much bank from anywhere in the world. You can deposit your campus payroll check with a mobile app, and use peer-to-peer payment services like PayPal or Venmo (owned by PayPal) to send (or receive) money from family or friends. Mobile payment apps that let you use your phone like a debit card or can turn a tablet into a card reader eliminate the need to carry cash.
And if you don't even want to carry a purse or wallet, you can connect your ATM card to your phone's mobile pay program. Hanscom FCU, for example, offers easy enrollment for Apple Pay, Android Pay, and Samsung Pay.
To top it all off, credit unions typically offer no-fee checking accounts, unlike the big banks advertising all over campus. HFCU, for example, offers no-fee checking accounts that include the access to over 100,000 ATMs with a minimum opening deposit of a dollar. Compare that to the $25 or more at some banks, along with high average daily balance requirements.
But one of the best reasons to stick with your credit union instead of one of the big banks is interest. According to Nerd Wallet, the national average annual percentage yield on a savings account is 0.05%. If you have an account with a big bank, your savings account is not only one of millions, but is most likely on the small side.
This means that not only is the amount you're lending to the bank inconsequential, but the monthly interest you get from it isn't even enough to cover an extra shot of espresso you need for your 8 a.m. economics lecture.
Credit unions offer another important advantage, one that should be of interest to any college student: empowerment and equity.
While banks are corporations, accountable to shareholders and expected to make profits, pay dividends, and offer competitive compensation to executives, credit unions are cooperatives. They're not-for-profits that are member-owned (meaning you!) and have a strong social purpose.
In Britain, many of the workers in the industrialized north were members of building societies, which are credit unions with a focus on helping people buy homes. During hard times or strikes, the building societies were known to suspend the obligations to repay loans until times were better. You'll see even today that credit unions will lend a hand to members during tough times.
If your big bank does things like lend to for-profit companies you find objectionable, you don't have any recourse except to move your account somewhere else. Even if you're a shareholder, the majority of bank shares are owned by major investors, corporations, endowments, and institutional investors – so they have more voting power in corporate affairs. But with a credit union, the rule is one member = one vote. You can actually make a difference.
If you want all the convenience of a big bank, a decent savings rate for your money, the assurance that they're not doing anything you would object to and a voice for change if needed, then you can't beat a credit union.
Head to school with a checking account that works for you, not against you. Hanscom FCU's free checking account has no monthly service fee, no minimum balance requirements, a $1 minimum fee to open, and you'll get access to over 100,000 surcharge-free ATMs around the U.S. You can even open one up online!
Others are reading: