"We had a young family and it was really important to me that my wife had a safe car to drive," said Hanscom FCU member and Marketing VP Steve Silva. "The challenge would be to find a safe and reliable car at a price point we could afford."
For the Silva family, Hanscom FCU's Better Than a Lease loan was the answer. "It allowed us to own the car while enjoying the lower payments that come with a lease," Steve said.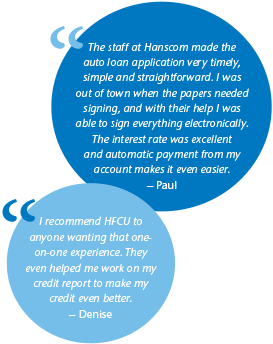 By financing only for the time that you plan to use the vehicle, a Better Than a Lease loan works in a similar fashion to a lease program.
Payments are typically 30% lower than traditional loans with the same term. Buyers can choose low or no down payments and will not pay security deposits, initial fees or penalties for early payment.
The title is in your name – not the dealer's – and you can use Better Than a Lease to purchase new or used cars, trucks or SUVs.
When the term of the loan ends, you have four choices:
Return the vehicle. We'll take care of the loan balance for you.
Keep the car and refinance. We have the same rates for new or used.
Trade in the car to a dealer and realize any equity you have built up.
Sell the car privately and pay off the balance. Any profit is yours to keep.
"Since those baby days, we have taken advantage of this program a few times. We now have three growing boys and find ourselves driving many friends and hauling lots of sporting equipment," Steve said. "While the kids have grown and the cars have changed, safety and reliability remain a top priority. The Better Than a Lease loan was a great way for us to meet our needs," said Steve.
To learn more about the Better Than a Lease program, visit
www.hfcu.org/lease
, or stop by a branch and speak to a representative.