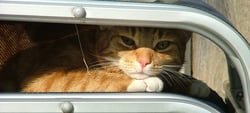 Every neighborhood has a kindhearted woman known affectionately as the crazy cat lady. You know, the person who can't stand to see any cat homeless. Well, in my neighborhood, my wife is the crazy cat lady. What does that make me, I wonder?
Aside from having 3 cats of our own, we also serve as a foster home for pregnant cats for the Humane Society for Greater Nashua. This involves an 8 to 12 week stretch of 4 adult cats and as many as 5 kittens using our small split-level as their personal playground. Life is good. So I know a little bit about the costs involved in owning a cat. Here is a rough break down:
Initial shots, spay/neutering, and microchip tagging — $90 for cats and $150 for kittens
Food — $10 per month
Veterinarian Bills — $200 to $250 per year. (Please don't skimp here. Sickness, including rabies, is more prevalent in indoor pets than outdoor.) Keep your cat up to date on all shots. It is also recommended that cats over 7 years old visit the veterinarian twice per year.
Toys — Can range from a crumpled piece of paper or old ribbon to a $140 cat condo. Your choice.
Litter and supplies — $15 to $25 per month
Even I must admit that kittens are cute and get into all kinds of hilarious mischief.
June is National Adopt a Cat Month. If you are thinking about adopting a cat, you are really helping a problem of tremendous overpopulation in our cities. Thank you. The Humane Society for Greater Nashua alone takes in over 2000 pets per year.
Despite their reputation for being independent, cats do bring a lot of life and love to a home. Just be sure to count the cost before taking that little cutie home.
Signed: The crazy cat man.