Scams targeting older adults are on the rise. It's a nearly $40 billion industry, and as thieves conjure up new schemes and technology grows at light-speed, the number of scams is likely to increase exponentially. In the face of such growth, how can you protect yourself or older family members from becoming victims to crooks?
Recently I attended a CU Senior Safeguard "Lunch and Learn" event in Braintree, Massachusetts, sponsored by Hanscom Federal Credit Union along with the Cooperative Credit Union Association and Disabled American Veterans. I gathered a number of great tips from the panel of speakers, consisting of experienced law enforcement personnel, Massachusetts lawmakers, and social service leaders. These pros provided not only sound advice for seniors, but everyone in the community because we're all vulnerable to financial scams. In fact, consumers in their 20s (today's millennials) are defrauded more often than consumers in their 70s according to a report by the Federal Trade Commission. Unfortunately, older Americans have a higher median loss than younger age groups.
Listen to your gut
You find a flyer stuck in your door that promises you'll get double the amount of your IRS refund if you call the 800 number they give you. The email you've just received says you've won the lottery, but you need to provide your bank details first for the millions to be wired to you.
Sound too good to be true? It is, said Braintree's chief of police Paul Shastany. "If something doesn't seem right," he said, "it probably isn't. Trust your instincts."
Another popular scam targeted at older Americans involves a phone call from a fraudster claiming to have the target's grandchild in jail. The caller will tell their potential victim their grandchild can be released only when the grandparent wires money or posts bail using iTune gift cards. "There's no police department anywhere that accepts bail money in the form of gift cards," said Shastany. "Hang up. If your grandchild is really in jail and needs to be bailed out, they'll call their parents or you'll be asked to post bail in person, not over the phone with gift cards."
Be rude and Hang up
Shastany pointed out that older-generation adults tend to be polite and respectful, even with strangers. These are qualities that scammers use to gain trust. "You want to prevent yourself from being victimized," he said, "so if you need to be 'rude' to stop that from happening, be rude. Don't listen to their offers or ask questions. Just hang up on them."
Can't bring yourself to slam the receiver down in someone's ear? Francisco Urena, Massachusetts Secretary of Veteran Services, recommended telling the caller that you need to think about the offer first, then hang up. Your goal is to get off the phone quickly. Michael Morrissey, Norfolk County's district attorney, pointed out that the longer you stay on the phone with a scammer, the more likely your number will reach the Dark Web and make you more susceptible to victimization.
Stay Aware
Scams can be scary and depressing to read about, but when you know about the latest ones, you can stay one step ahead of the bad guys. It's why it's so important to stay informed.
Here are links to reputable organizations and sites reporting on current scams:
One panel member reminded the crowd to remember their neighbors and friends who may not listen to the news or get out much. "Let them know if you've heard of a new scam. Be their eyes and ears."
Feel like you're being targeted by a scammer? Contact your local police department. Officer Peter Gillis of the Braintree Police Department said that area police take senior fraud seriously. He personally reaches out to senior centers, churches, and other organizations to urge citizens, young and old, to contact him when they suspect fraudulent activity or a scam going on in the community. He said in 2018, his department collected 80 reports of internet scams. "The number of scams that occurred last year is probably much higher," he said, "because a lot of people don't bother to call."
Lastly, keep an eye on your credit reports for fraudulent activity. Here at Hanscom FCU we offer free credit report and score reviews.
Protect Your Assets
Unfortunately, strangers aren't the only ones scamming and defrauding older adults. "We see a lot of caregiver and family member financial abuse on the front lines of the financial services industry," said David Sprague, Hanscom FCU's president and CEO. "It's a challenge because often the caregiver or family member has done a good job gaining the trust and friendship of their victim, so sometimes we can't convince our member they're being scammed, which is frustrating." Sprague pointed out that every Hanscom FCU employee, whether back office or on the front lines, has been certified through CU Senior Safeguard to identify and prevent elder financial abuse.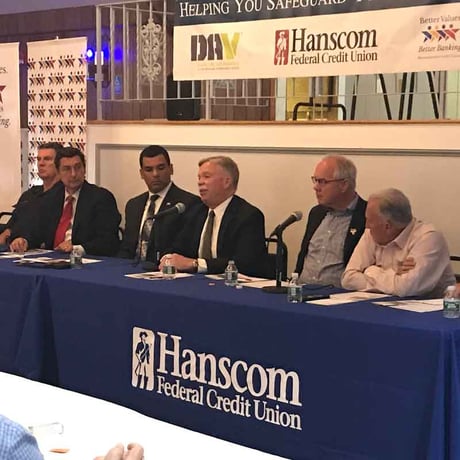 Morrissey, the Norfolk county DA, provided a great tip that could help curb caregiver abuse. He suggested that older adults share information with other members of the family as a check on the main caregiver. This gives a second (or third) pair of eyes on finances and some extra insurance that one's personal details are not being exploited for someone else's financial gain.
"I'm the last person you want to see if you've been scammed," the district attorney told the gathered crowd. "It means that the scammer has gotten away with your money, and you're probably not going to get it back. So if you have any doubt about an offer or a phone call, just say no. And if you have been scammed, tell someone -- call your police department, talk to a family member. Don't be ashamed; it's okay to make a mistake."

Others are reading: