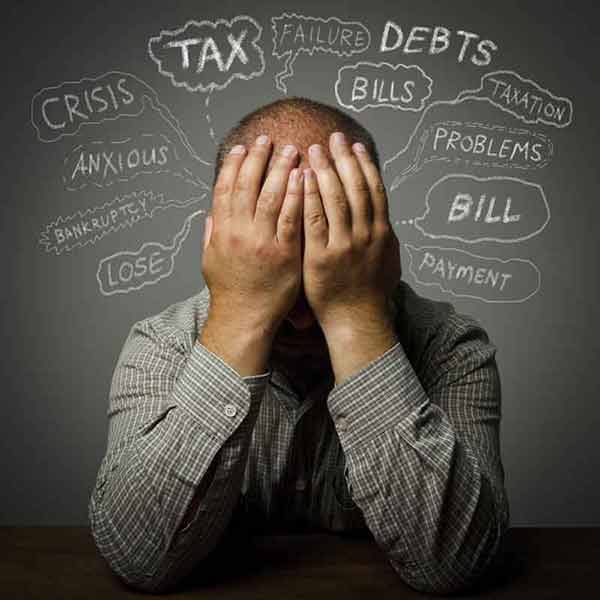 What would you do with $300 billion dollars?
American businesses might want to ask themselves the same question. That astounding figure is the amount that businesses lose every year because of their employees' stress levels, according to the World Health Organization, and money is a primary source of that stress.
More than three out of four Americans (76%) cite money and work as their major sources of stress, according to a 2013 report by the American Psychological Association and American Institute of Stress.
Not having enough emergency savings for unexpected expenses tops the list of financial stresses in another survey, published by Price Waterhouse Cooper in 2017. Two more immediate stresses – not being able to meet monthly expenses and not being able to keep up with debts – concerned 21 and 17 percent of respondents respectively, the highest percentages in those categories in five years.
"The sources of financial stress depend on the individual," said Maria Porto, Hanscom Federal Credit Union Assistant Vice President of Partner Relations.
In addition to the issues found in the Price Waterhouse Cooper survey, Porto finds employees are also worried about paying off student loans, children returning home after college and lack of investing for the future.
Physical health and fiscal health "go hand in hand,'' she said. "If employees are stressed about their finances, it affects their health. It's a vicious cycle.''
Consider this not unfamiliar cycle. You worry about how to pay the mortgage. You don't concentrate so clearly on work, so you forget about that key meeting or make an error on an important report. Then you worry about how these mistakes will impact your job security, which will bring you back to square one: You worry about how to pay the mortgage.
It's enough to keep you up at night. And it does. Sixty-five percent of Americans surveyed have lost sleep worrying about financial issues, according to a 2017 survey from creditcards.com. That's up three points from last year.
Nearly three out of four Millennials (71%) and Gen Xers (73%) have reported losing sleep to financial concerns. Even among Baby Boomers, the population least likely to report these concerns, more than half (56%) have been counting sheep, or credit card statements, instead of a getting in a good night's sleep.
So how to break the cycle?
Financial worries can be overwhelming, so the first step may be to take a deep breath.
Then, consider these options:
Take an honest look at your situation. Hiding the bills under the cactus plant might be tempting but facing your situation head-on is the only way to find real answers.
What do you owe? How long will it take to pay off your debts? Knowledge brings power and fully understanding your situation might help you breathe more easily.
Remember, you have options. Look at your spending and consider ways you can reduce it. Do you need 800 cable channels? Would buying an office frig or microwave allow you to bring lunch from home, avoiding the frantic and financially draining dash at noon to the nearest lunch place? A library card is like kryptonite to financial distress. Libraries are treasure troves of free material, including books, DVDs, CDs and passes to museums and other family-friendly destinations.
Then there are bigger ideas. Is it time to take a second job or turn your passion for baking, crafting or caring for the lawn into a second job? Buy a smaller place? Scrap grand vacation plans in place of checking out cool day trips?
The answers may start at the very source of the stress: The office. Many companies offer free financial education programs in the workplace to help ease stress. Porto works with companies to provide these free programs from Hanscom FCU, called Lunch and Learn programs, which she described as rewarding in many ways.
"Employees have mentioned that our financial literacy program engages their employees and makes them appreciate all that the employer is doing to help them personally,'' she said.
Knowing what resources are available can ease the pressure of feeling you are alone with your worries, with no answers in sight.
In addition to offering meaty information, the Hanscom FCU Lunch and Learn programs also serve food, such as pizza and ice cream, at no cost to employers.
"This is an unconventional way of helping employees feel at ease,'' Porto said.
And a tasty reminder that, with knowledge, planning and communication, employers can satisfy the hunger employees have to get their money woes under control.
Be that employer who goes above and beyond for your employees. These valuable Lunch and Learn programs are free, and they have the potential to make your employees more productive in the workplace. Learn more.