Baseball, that all-American sport, was the backdrop for a magical evening earlier this summer when 91-year-old Mike Kaminsky was honored by Hanscom FCU and the Lowell Spinners at LeLacheur Park.
All eyes were on Mike, a World War II veteran, as he approached the mound to throw out the first pitch. Behind him, the jumbotron at in Lowell flashed his name and the phrase "Hero Among Us."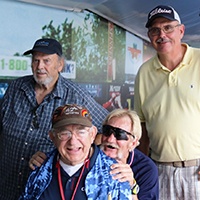 Kaminsky is the first hero to be recognized this summer through the Hero Among Us program. Nominated by the community, our heroes exhibit extraordinary courage, commitment, and achievement.
Mike served with the 42nd Rainbow Infantry Division in Germany under General Patton. Today, he's a resident of Bedford Green on the campus of the Bedford VA Hospital. At 91, you might think he spends most of his time quietly reminiscing, but you'd be wrong.
In addition to living in his own one-bedroom place at Bedford Green, he is a regular participant in activities for residents. He can be found feeding the horses at Strongwater Farm in Tewksbury. Last spring, Mike traveled with Honor Flight New England to see the WWII memorial in Washington, DC.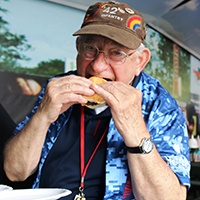 At the park, Mike received the royal treatment. Along with some friends, he enjoyed dinner at the Home Plate BBQ. Before the game against the Aberdeen Ironbirds began, Mike had a chance to talked with the players, who autographed a ball for him to take home.
It was touching to watch these young men, who could easily pass as Mike's great grandsons, shaking hands and exchanging stories. Surely they will remember him well into the future, telling their own families about the time they met a man whose sacrifice many years ago bought their freedom today.
We can't recall which team came out on top that night, but it didn't matter because it was Mike who left the field with the win.