See what Hanscom FCU has been up to in the community!
Hanscom FCU recently celebrated another great year of serving members with a collective "thank you," hosting a Member Appreciation Day at all branches. At the main branch on Hanscom AFB, Col Michael A Vogel, Commander, 66th Air Base Group, Hanscom Air Force Base, left, stopped by and was welcomed by President/CEO David Sprague.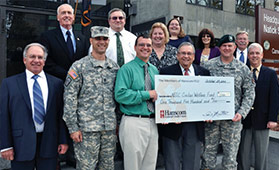 The 2014 Board of Directors Memorial Award was presented to the Natick Soldiers Systems Center Civilian Welfare Fund (CWF). The $1,500 award honors past and present Hanscom FCU board members by recognizing volunteer groups that serve our membership base. Pictured left to right, back row: Hanscom FCU Director Fred Ryan; CWF volunteers LaVern Olmstead, Kathy Ferent, Theresa Sowerbutts and Marie Belmore; Hanscom FCU President/CEO David Sprague. Front row: Hanscom FCU Director Hugh McNeil, CWF volunteers CSM Robert Beausoleil and Duane Young, Hanscom FCU Chairman of the Board Paul J. Marotta, CWF volunteer LtCol Brian Greata, and Hanscom FCU SVP of Operations Jim Potter.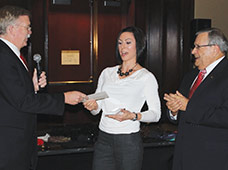 Jessica Read, manager of member relations, received the Cushman Award at the annual employee appreciation event. The award, named for a long-time board member, is given to the staff member who best embodies the ideals of Hanscom FCU. As a team leader in member service, Jessica displays flexibility, extensive product knowledge, and outstanding training skills. Earlier in the year, she also received the President's Award for strategic support.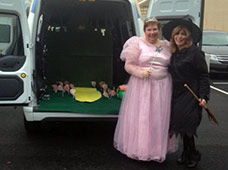 We had a spooktacular time at the Trunk or Treat event held by the Bedford (MA) Chamber of Commerce. Relationship Manager Cheryl Eggerts and Bedford Branch Assistant Manager Joan Daly made a charming good witch/ bad witch team, handing out candy to local children.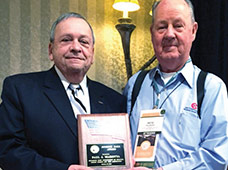 Hanscom FCU Chairman of the Board Paul Marotta (left) accepted the Eugene Ball Award from Pete Weldon, former Chairman and current Director of the National Association of Credit Union Chairmen. The award was created to recognize outstanding leaders in the credit union movement. Mr. Marotta was elected Chairman in 1992 and has served on the board since 1988. He began his volunteer career in 1976 when he joined the Supervisory Committee.
You Said It —
We've received many kind words on our redesigned web site. Thank you to all who took the time to leave a review.
"I've always had great experiences with Hanscom, from resolving issues with charges, credit score reviews, and comparing loan rates just to name a few. I'm proud to have been a Hanscom member for many years!"
– Kimberly P
"I've been with HFCU for many years and very satisfied. Although I moved from east coast to California, I am keeping my Hanscom accounts. Thanks to convenient online banking service."
– Ching-Yi L
"I have been a customer for over 15 years and can't say enough about how efficient HFCU has been for me. They also follow up on questionable charges incurred to my account. Best bank or credit union I have ever dealt with."
– Paul C