See what Hanscom FCU has been up to in the community!
Hanscom FCU brings hands-on learning to JROTC. For the second year, Hanscom FCU will sponsor a CU4 Reality program for high school students from local JROTC programs. The event is the capstone of a six-week financial education program taught by Hanscom FCU employees. Students simulate the real-life budget decisions they will face as they enter adulthood.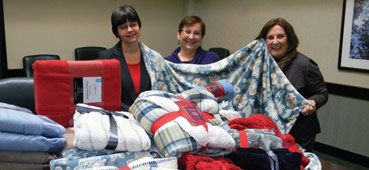 Blanket donations warm the heart. Staff members Kim Houle, Deb Cahoon and Elaine Jones pack up blankets for the Massachusetts Coalition for the Homeless. Since the Blanket Drive began in 2011, state credit unions have donated more than 2,000 blankets to those in need throughout Massachusetts.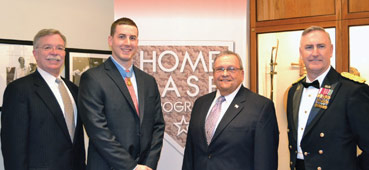 Hanscom FCU supports Mission Gratitude. Hanscom FCU President/CEO David Sprague, 2014 Medal of Honor recipient Staff Sgt. Ryan M. Pitts, Hanscom FCU Chairman of the Board Paul Marotta, and Brig. Gen. (ret.) Jack Hammond, Executive Director of the Home Base Program at the Mission Gratitude event to benefit the Red Sox Foundation and Massachusetts General Hospital Home Base Program. Sgt. Pitts, a Lowell, Mass. native, was a special guest speaker at the event.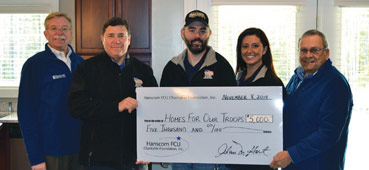 NH vet receives new home with help from friends. David Sprague, Hanscom FCU President/CEO; Major General USA, Ret. Timothy P. McHale, President/CEO of Homes for Our Troops; veteran Army SSgt Matthew Dewitt and his wife, Catrina; and Hanscom FCU Chairman of the Board Paul Marotta at the key ceremony for the Dewitt's new home. Hanscom FCU was a sponsor for the project. The home-build project will be highlighted in a three-episode feature on TV's "This Old House" program, which will air in spring 2015 on PBS and www.thisoldhouse.com.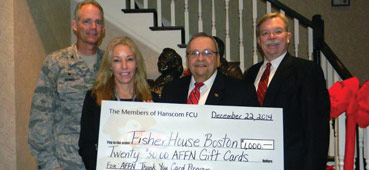 Thank you cards help families of veterans. Col. Michael A. Vogel, 66th Air Base Group commander, left; Elizabeth St. Pierre, Fisher House Manager; Hanscom FCU Chairman of the Board Paul Marotta; and Hanscom FCU President/CEO David Sprague at the presentation of 20 thank you cards for family members of veterans seeking treatment at the VA Boston Healthcare System. The cards, donated by the Armed Forces Financial Network, help family members pay for expenses such as gas and food while staying with their veteran.