board memorial award provides $1,500 for
enlisted air force personnel
The 2015 Board of Directors Memorial Award was presented to the Patriots Enlisted Association on International Credit Union Day. The $1,500 award honors past and present Hanscom FCU board members by recognizing volunteer groups that serve our membership base. Photo courtesy of the U.S. Air Force.
sheila mavropoulos named hanscom FCU employee of the year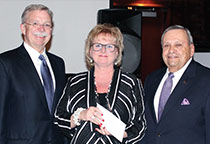 Sheila Mavropoulos received the Cushman award at the annual employee appreciation event. The award, named for a long-time board member, is given to a staff member who best embodies the ideals of Hanscom FCU. Sheila began working at Hanscom FCU in June 2011 as a teller in the main office and quickly moved into her current role as member liaison at Hanscom FCU's main office and headquarters. Sheila is a familiar face to members and visitors at our main branch. "She is always willing to go above and beyond, and that was especially true this year," noted Hanscom FCU Chairman of the Board Paul Marotta.
chairman marotta is honored as a credit union hero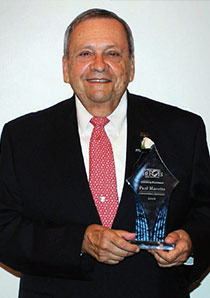 Hanscom FCU Chairman of the Board Paul Marotta was named a Credit Union Hero by Banker & Tradesman magazine. The award recognizes credit union leaders who exhibit outstanding integrity and commitment to the movement. Mr. Marotta has served as a volunteer at Hanscom FCU since 1978, and has led the credit union as chairman for 22 years. Photo by Amanda Martocchio for Banker & Tradesman.
trunk or treat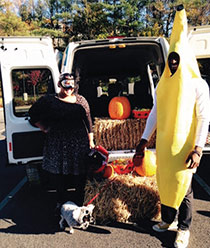 We had a great non-scary time at the Trunk or Treat event sponsored by the Bedford (MA) Chamber of Commerce. Staff members Ferdousi Faruque and Delroy McDonald got into the spirit, giving out candy to hundreds of costumed kids.