Employees at Hanscom FCU's main office on Hanscom Air Force Base welcomed home military and civilian service members. Nearly 50 service members returned to base within the last year after being deployed overseas.
The honorees and their families first attended a formal ceremony at the Hanscom Conference Center. They then participated in a parade with fire trucks, vintage automobiles, military vehicles, a Duck Boat, and even Hanscom FCU's van! (Kudos to Paul Marotta and David Sprague, who were extremely generous with the candy they threw to the crowds.)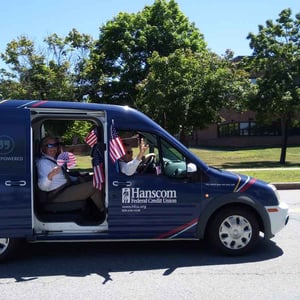 At the end of the parade route, Hanscom FCU employees handed out ice cream, a cool respite on a hot, cloudless July afternoon.
"Our Hanscom family looks forward to this parade every year," said Marotta, Hanscom FCU's Chairman of the Board. "We truly appreciate the sacrifices these men and women have made, along with their families, to keep our nation safe."
Others are reading: