This week, we challenged over 200 Massachusetts high school students to balance a household budget. The teens were each presented with a hypothetical yet realistic starting income for a field of their choice. They were then asked to create a real-life budget, including housing, utilities, transportation, food, clothing, and more. The experience is called CU 4 Reality, an award-winning national financial education program.
"I learned that you might want everything, but you can't always have it," said Taysia, a senior at Lincoln-Sudbury Regional High School. "It's a good lesson for when we get older."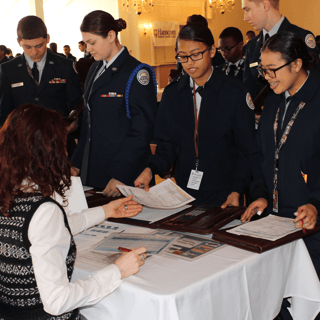 The fair, hosted by Hanscom Federal Credit Union and run by a group of enthusiastic volunteers, took place at a community hall on Hanscom Air Force Base. The students came from Lowell, Bedford, Lincoln-Sudbury and Concord-Carlisle high schools. When they arrived, they each received a folder that included information on the income amount they will be using and a budget to balance.
To complete the challenge, the students had to visit dozens of tables set up around the room, each offering enticing wants and needs – such as phone service, gym memberships, insurance options, and pets. There were sales pitches and negotiations, special deals and competitive pricing. The result was a dose of financial reality.
"Some of these students come in with a false sense of money. Here, they get an actual starting salary and have to figure out how to budget it. It's the reality of life," said Lincoln-Sudbury math teacher Chris Stanek. "What impressed me was how enthusiastic the kids are about this program. They were really excited about this field trip."
Laurie Fortunato, a math teacher at Concord-Carlisle Regional High School, said the program provided a "reality check. They get to see how their needs will balance with their wants. They see that they can have wants – within reason," she said.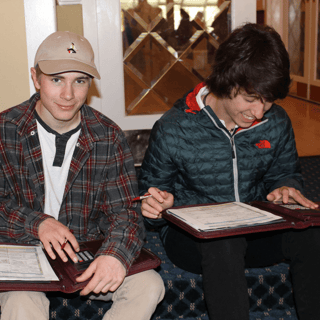 "I think that's one of the biggest surprises for students," said Hanscom FCU Marketing and Communication Manager Patti Conty, a volunteer for the program. "You really can't have everything you want. There's a limit – especially when it comes to concert tickets and trips and that sort of thing."
Ferdousi Faruque is one of the program organizers. She said this is the third year that Hanscom FCU has offered the program. "It's really eye-opening for students. They are just preparing to get into the workforce, and they're thinking about finances for the first time."
So, what happens if a student can't get his or her budget to work? Financial counselors are seated at tables in the middle of the room. Each student completes the challenge by meeting with a counselor who reviews the budget. If the numbers don't add up, the counselor will work with the student to make some changes in spending decisions. For some, that means downsizing a car or finding a roommate.
"My favorite part of this program is watching the students grow from the experience. Many are pretty nervous when they arrive. They aren't sure they can do this. Then, by the end of the program, they make decisions for themselves and feel pretty good about that. They understand that they are in control of their budgets," said Conty. "It's empowering. It's really cool."
"Many are surprised at how much their parents spend and their financial journeys," said Faruque. "A lot of these students tell us they go home and thank their parents."