As a credit union member, you're a savvy consumer. I'll take it a step further: you're brilliant. This statement is underscored by a recent Bankrate.com survey that shows the average cost for an ATM withdrawal hit a record $4.72 in the last year, up 3.3% over the past three years and 33% the past decade. It's also a cost that you, in your wisdom, have chosen not to pay as a member of Hanscom FCU.
Simply put, consumers are making a choice to pay fees and surcharges, and that has many in the banking world wondering how much more American consumers might be willing to pay to access their own money. After all, they have been testing the limits and inching the total transaction fee higher with an average annual increase of 4.25% over the past 21 years.
This latest report shows that the total cost of an out-of-network withdrawal at an ATM averages $4.72. This includes the surcharge the out-of-network bank imposes on a non-customer, in addition to any fees the customer's financial institution may levy.
The increased ATM cost breaks down like this: You've got your ATM surcharge from an out-of-network bank averaging $3.09 per transaction. On top of this, the average fee the account holder's bank tacks on is $1.63 for a total of $4.72.
And bad news with falling interest rates: financial experts warn that lowered interest rates mean that banks will impose even higher ATM surcharges and fees to boost profit margins.
To give you an idea of how much money is involved, consider this: a 2017 CNN survey showed that the three biggest banks in the U.S. (JPMorgan Chase, Bank of America, and Wells Fargo) earned more than $6.4 billion in 2016 from ATM and overdraft fees.
Here's where you shine. As a member of Hanscom FCU, you belong to one of the largest networks of surcharge-free ATMs nationwide — larger than Bank of America's! There are over 100,000 surcharge-free ATMs in our network, and they're spread throughout the country — from Welcome, North Carolina, to Happy Valley, Oregon, and just about everywhere in between.
I routinely post silly maps on social media to remind our members about this feature (see the one for Hamburg, New York, below, for example), but it's really no laughing matter when you consider how much money is lost each year to unnecessary banking fees.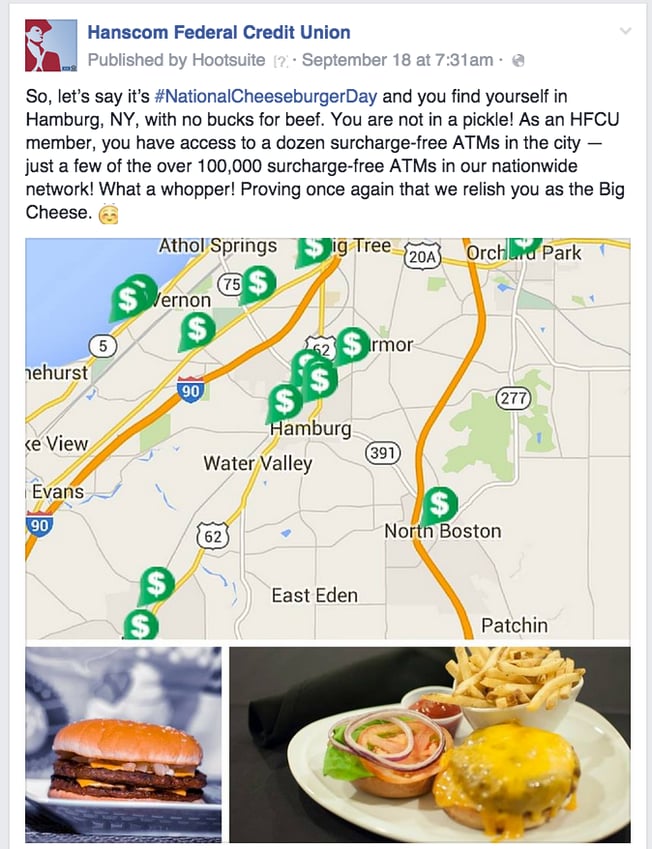 To see how far reaching your surcharge-free ATM network is, I encourage you to go to the interactive map at hfcu.org/locations and search destinations in America. For example, you might want to look at Houston, a city that averages the highest among ATM fees with a total of $5.58 (!) per transaction. The map displays nearly 100 surcharge-free ATMs in your Houston network.
And that brings me back to your intelligent glow. You made a choice not to pay unnecessary bank fees when you decided to join a credit union. You put yourself in one of the largest surcharge-free ATM networks in the country. Brilliant.
---
Others are reading: